Honestly, what's not to love about this girl? She's a talented actress, a gorgeous woman, and a fashion queen. I'm always looking out for her at different events, beacuse I know that no matter the tenor of the event she's attending, Zoe Saldana will always be picture perfect.
Trying to show every look I like would be too much for just one post, so I'll do my best to illustrate the showstoppers.
At the London Premeire of Avart she was a total knockout in RM by Rolan Muoret. The dress is so decliously structured and incredibly perfect I think I'll run out of superlatives in this post. Everything in this look, hair, makeup, jewely, and frock work together to give us one of her best looks. And they've all been good.
This is THE showstopper of the year. I have LOVED this Givenchy work of art since I saw it. Zoe is of course the perfect candidate to do justice to Riccardo Tisci and his brilliance.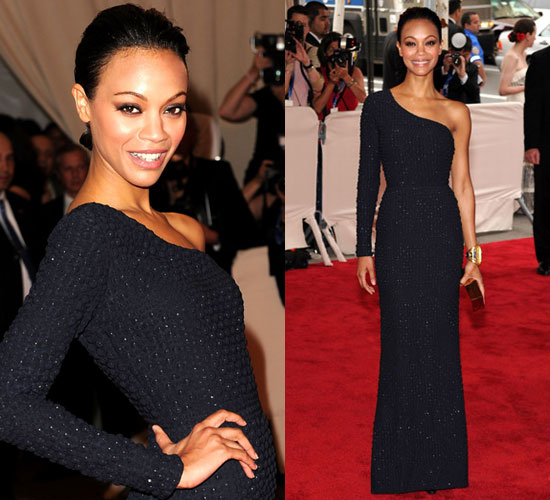 Her she is at the Met Costume Gala in Calvin Klein...wow. This gown is so understated but so intricate at the same time. The color compliments her skin tone to perfection, and the stones embeded throughout the gown offer the needed piazz. I love the simplicity of her hair and the single gold cuff.
Zoe shows how the LBD is meant to be worn in this Vionnet masterpiece. With style, grace, and a touch of quirkiness. I love the total black nature of this look which so offsets the pop of red on her lips. Also, I ADORE the soft braided updo.
In other words, Zoe Saldana, you are one of my fashion royalties, I don't know how you do it, but you do it. And that's all that counts. Please never stop.